RIAD
The Riad Rafaele & SPA is an authentic 18th century riad, a haven of peace in the heart of the Medina. Push the door of the Riad, discover its immense interior patio and let yourself be lulled by the song of fountains and birds. Close your eyes and breathe in the scent of orange trees. Cool off in its pretty swimming pool. Enjoy the talents of our cooks. Let yourself be pampered during a massage or a hammam. Discover its shop and collection of Moroccan crafts and bring back wonderful treasures from your trip. And above all, take yourself for an Arab prince or princess in our majestic rooms and suites!
Chambers
Riad Rafaele & SPA offers 9 refined and spacious rooms of 25m² including 2 suites of 60m² and 75m². Each room is unique and decorated with a mix of modern and traditional style Moroccan. Each has its private bathroom in marble and tadelakt and are equipped with high-end bedding. The rooms overlook the Riad's patio and the swimming pool.
Suites
Riad Rafaele & SPA offers 2 spacious suites of 40 M² and 75 M² with warm and refined decoration. Bright and majestic, they open onto the lush patio and its beautiful swimming pool. These suites offer authentic architecture, beautiful high ceilings, a great traditional tadelakt bathroom and high-end bedding.
ACTIVITIES
Discover a wide choice of activities and live unique experiences during your stay in Marrakech. A hot air balloon flight at sunrise, quad biking thrills in the Agafay desert, beautiful encounters with locals in Berber villages, a romantic getaway in Essaouira, not forgetting the unmissable Majorelle garden … The Riad Rafaele & SPA offers authentic half-day or full-day itineraries each day from the Riad. Our excursions are carefully selected to make your stay magical.
Excepted the SPA, the Riad is completely independent of these activities and declines any responsibility concerning their services. We only advise experienced service providers.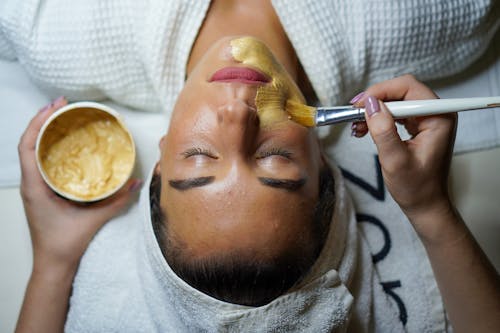 Riad Rafaele's SPA
Enjoy an incredible moment of relaxation and escape in the SPA of Riad Rafaele. A real relaxation ritual to recharge your batteries.
Ouzoud waterfalls
Soak up the paradisiacal atmosphere of waterfalls considered to be the most beautiful in Morocco. Travelers with an incredible sense of freedom can bathe and stroll among its lush vegetation.
Cooking course at the Riad
Accompanied by our excellent cooks, you will learn to prepare small dishes like real Moroccan chefs. Couscous, tagines, Moroccan pancakes and other succulent Moroccan specialties will no longer hold any secrets for you.
Majorelle Garden
The essential of Marrakech. You will love taking a walk in the lush Jardin Majorelle. Magnificent and rejuvenating, it also houses an incredible Berber museum.
Ait Ben Haddou
A UNESCO heritage site, Ait Ben Haddou is a Moroccan Ksar located in the famous province of Ouarzazate.
Escape to Essaouira
Considered one of the most beautiful destinations in the world, this former fort and fishing port is now a very trendy small town.
Ourika valley
Venture into the Ourika valley to discover typical colorful Berber villages. The more adventurous can climb to admire magnificent landscapes.
Balloon flight
Soar aboard one of the most beautiful "balconies" in the world. This hot air balloon flight over the ocher city and the Atlas Mountains is one of Morocco's most popular experiences.
Camel ride
What could be more authentic than a camel ride to discover the magnificent landscapes of Morocco? Between deserts and palm trees, the guides will give you a magical experience on these majestic creatures.
Buggy tour
Reach extraordinary sites hidden in nature behind the wheel of your comfortable buggy. On the program: crossings of rocky wadis and stone deserts, ascents and descents in canyons, thrills guaranteed.
Quad in the desert
Set out to conquer the Agafay desert, Marrakech's flagship tourist spot, and enjoy a splendid view of the Atlas. The guides adapt to the rhythm of thrill seekers as well as those who prefer milder walks.
WIFI ON BOARD
So you can share your trip and stay in touch with your loved ones.
SPA
Escape from it all in our pretty SPA and enjoy a wide range of treatments. Download our program by clicking on the icon.
CAR SERVICE
Take advantage of our valet service for your trips and your airport transport.
CONCIERGE SERVICE
A whole team at your service and caring 24 hours a day.
RESTAURANT
On the terrace or around the swimming pool, reserve a table to discover the incredible talents of our cooks. Reservations before 12 noon for dinner.
SWIMMING POOL
Enjoy our big heated swimming pool all along the year.
My daughter and I spent 3 very happy days at Riad Rafaele. The building and rooms are beautiful, a haven of peace in the heart of the Medina. The staff and owners are very kind and thoughtful and take a lot of trouble to make you feel welcome and relaxed. We didn't have dinner but the breakfast was always good with plenty of choice (with different options each day) and presented beautifully. The Riad is very old and atmospheric, with stunning craftsmanship everywhere you look. We loved it.
Really beautiful and traditional place, like a large family home with a courtyard in the centre – complete with orange trees and a a small pool. Wife and I booked in for a few days to explore Marrakesh – what a crazy place, where you walk down narrow roads dodging people, bikes, motorbikes, handcarts and donkeys! Very friendly staff who arranged dinner for us at very short notice when we arrived the first evening. All in all, a really lovely and comfortable place to spend a short break.
Lovely Place in the heart of the Medina. we loved staying there. the people that run the riad are super nice and help out with any needs. it was a great and calm place to relax after the hektik times in the souks. it was very clean amd beautiful. would come again.
Wonderful place! This riad is lovely on every details. Everything is perfect and beautiful. The rooms, the courtyard, the terrasse… the staff was super friendly making me feel at home from the very first moment. The breakfasts were excellent, different everyday. The location is perfect to walk around in town. It was the perfect place to visit Marrakesh!
Superb Riad. Hakim, and the rest of the staff are very friendly, welcoming and nothing is too much trouble! We will return again the next time we are in Marrakech! Room is very charming, A/C in the room beautifully.
Phone : +212 7 67 23 85 83  –  E-mail : riadrafaele@gmail.com